Eco-Friendly Tips
---
TRANSPORTATION
Students can make environmentally-conscious decisions in many aspects of their study abroad experience, but one thing that is unavoidable is the international flight. The carbon emissions from the overseas flight can be more than a person's carbon footprint in an entire year. There are a couple of ways that students can help address this problem.
Purchase carbon offsets for your flights and other transportation.

Carbon offset programs allow individual flyers to invest in projects which help counterbalance the emissions from their particular flight. The amount paid correlates to the distance of the flight. Many airlines give the option of purchasing offsets when booking a flight, but there are also many organizations which offer carbon offsets such as

Carbon Fund

(non-profit) and

ClimateCare

("profit for purpose"). These organizations can also purchase offsets for other forms of transportation and electricity consumption.
Look for airlines with sustainable practices.

Many airlines have chosen to focus their efforts on decreasing their fuel consumption and building more efficient aircraft. Research which airlines are the "greenest" before booking your overseas flight.
Use alternative forms of transportation for local and regional travel while abroad.

Students' daily commutes to and from class will likely be longer than they are at Davidson. While many major metro areas have very efficient mass transit options, students may consider buying or renting a bike or even walking to class. In addition to the lower environmental impact, these options allow students to see much much more of their host city.

Many students also choose to travel to neighboring countries during their semester abroad. When planning these shorter trips, students should take into account the environmental impact of their travels. Rather than taking a flight from Paris to Rome, consider taking a train. For shorter trips, think about hiring a shared taxi or taking a bus.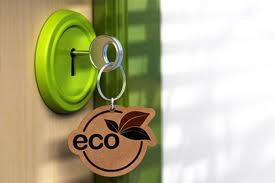 HOTELS
When planning overnight trips to other destinations, students should look for hotels that participate in sustainable practices or have a green certification. This may mean different things in different parts of the world.

There are many different "green certification" programs which rate hotels on a variety of criteria, including

LEED

,

Energy Star

,

Green Key Global

,

and

Green Globe International

. When booking a hotel room, students should ask them about any environmental certifications and sustainable practices in which they participate.

Additional Resources:
Expedia

, the travel booking website, has partnered with Sustainable Travel International to compile a search engine for green hotels.
The

Green Tourism Business Scheme

is the national sustainable tourism certification in the United Kingdom.

Many travel guide books now include commentary and advice on eco-friendly hotels.