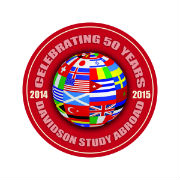 Education abroad is an invaluable opportunity that supplements the Davidson undergraduate experience. Students have the opportunity to choose from several Davidson sponsored programs and from over 100 academic programs that are operated by partner providers around the world. Each year, well over half of our graduating class studies abroad for a year, semester or summer.
Please click on
Application Process
if you are considering study abroad in the near future.
Message from the Office of Education Abroad in light of the evolving COVID-19 situation:

FALL 2020 & AY 2020-21 APPLICANTS:
Most of our fall/AY programs are moving forward as planned, but we know there's a lot of uncertainty, so we encourage you to be in touch with us if you have any concerns or thoughts about your upcoming study abroad plans. Please make an appointment through our

website

with one of our advisors.

OEA staff hope everyone is safe and well and settling into their new routine under the virtual instruction model. Please see a few notes below that answer some questions we have been receiving:
OEA staff are continuing to work remotely during regular business hours and are accessible by email, phone, and

Zoom

, effective March 13, 2020.
Advisors are still available for 1:1 virtual appointments with students. Please visit our

Schedule an Appointment page

to select a time, and the advisor will email you to confirm and include a link to a Zoom meeting. (Refer to this helpful

T&I article

about using Zoom if you need assistance.)
Summer Programs:

The status of Davidson summer programs is being reviewed, and any decisions regarding cancellation will be communicated to applicants as soon as information is available. If a program is cancelled, students will be refunded the amount that they have already paid toward the program.

Students applying for summer partner provider programs will be contacted by their program with any updates. Please be sure to let OEA know if your program is cancelled or if you decide to withdraw.

Many of our partner programs are offering virtual international and intercultural learning opportunities. Please refer to the list of

Summer 2020 Virtual Alternatives

for more information and contact an

Education Abroad Adviser

if you would like to apply. Late applications may be possible. (Please note that credit transfer must be approved individually by the Registrar's Office. This list is for informational purposes and does not automatically constitute approved courses.)

Fall Programs:

At this time, no changes to fall programs have been announced (for Davidson programs or those through our partner providers). Please continue completing paperwork and requirements as though the programs will happen. Any cancellations will be communicated to students as that information is available, and our staff will discuss possible alternatives at that time.

The Official Leave Notification Deadline has been extended until Friday, March 20th. If you plan to go abroad in the fall, please go ahead and complete the OLN. If the program is cancelled or you decide to withdraw for personal reasons, your $350 study abroad administrative fee will be refunded. (Please confirm refund policies with your individual partner provider.)
The Registrar's Office is advising that all students complete WebTree for the fall, even if you are planning to study abroad.
Please refer to the

Davidson College COVID-19 page

for the latest communication from the College as well as the

COVID-19 Response FAQ

for answers to common questions. Be kind to yourself and others as we face increased uncertainty and stress! #DavidsonStrong #DavidsonTrue



Resources to stay abreast of the latest news regarding the COVID-19 outbreak:



U.S. Department of State:


https://travel.state.gov/content/travel/en/traveladvisories/ea/novel-coronavirus-hubei-province--china.html



Centers for Disease Control and Prevention:


https://www.cdc.gov/coronavirus/2019-ncov/faq.html



International SOS:


https://pandemic.internationalsos.com/2019-ncov



British Foreign & Commonwealth Office:


https://www.gov.uk/guidance/travel-advice-novel-coronavirus



NAFSA Coronavirus Critical Resources:


https://www.nafsa.org/regulatory-information/coronavirus-critical-resources



Press Briefing by the President's Coronavirus Task Force:


https://www.whitehouse.gov/briefings-statements/press-briefing-members-presidents-coronavirus-task-force/
---
All prospective study abroad students are encouraged to
Schedule an Appointment
with an education abroad adviser. If you only have a brief (5-10 minute) question,
walk-in advising
is available Monday through Thursday between 4:00-4:45 pm in the Office of Education Abroad in Duke Residence Hall.
---
The
Office of Study Abroad
is changing to the
Office of Education Abroad
in keeping with the field and in recognition of the wider breadth of international educational opportunities for students. Changes are underway on the webpage, and the term "study abroad" will still be searchable and applicable.
---
For the class of 2023 and future classes
, Davidson College will follow a home tuition policy for fall, spring, and academic year study abroad. Under this policy, students who study abroad with a partner program will pay to Davidson the College's study abroad and tuition fees, and the College will pay the partner program's tuition cost to that program (up to Davidson's tuition fee). Students will pay all other program costs, including a non-refundable deposit, directly to the partner program. This policy aligns Davidson's practices with many other U.S. colleges and universities.