STUDY ABROAD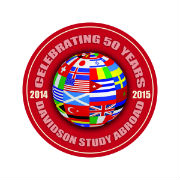 Study abroad is an invaluable opportunity that supplements the Davidson undergraduate experience. Students have the opportunity to choose from several Davidson sponsored programs and from over 100 academic programs that are operated by third-party providers around the world. Last year, well over half of our graduating class studied abroad for a year, semester or summer.
Please click on
Application process
if you are considering study abroad in the near future.
Davidson students awarded prestigious scholarship!
Are you a first year student? If so,,,,,,
read more