Education abroad is an invaluable opportunity that supplements the Davidson undergraduate experience. Students have the opportunity to choose from several Davidson sponsored programs and from over 100 academic programs that are operated by partner providers around the world. Each year, well over half of our graduating class studies abroad for a year, semester, or summer.
---
Use these quick links to get started, or browse the full menu on the sidebar
Approved Programs
Just getting started? Take a look at our approved programs list to explore your options for semester, academic year, and summer study abroad.
Pre-Departure Information
Are you getting ready to go abroad? Make sure you are prepared for a successful experience by carefully reviewing our pre-departure tips and resources.
---
Additional Information
Apply for Your Passport!
If you plan on studying abroad and you do not have a passport or your passport will expire in the next year, you should apply
now
for a new passport. We anticipate longer processing times to receive passports and you must secure yours with enough time to apply for visas for your program country.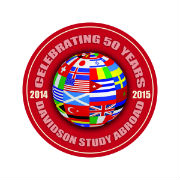 Website Updates
The Office of Education Abroad is currently making updates to the content and organization of our website, so users may notice changes while on the site and/or if they revisit. We apologize for any inconvenience. If you are having trouble finding any information, please email our office at

edabroad@davidson.edu

.
---
The
Office of Study Abroad
has changed to the
Office of Education Abroad
in keeping with the field and in recognition of the wider breadth of international educational opportunities for students. Changes are underway on the webpage, and the term "study abroad" will still be searchable and applicable.
---
For the class of 2023 and future classes
, Davidson College will follow a home tuition policy for fall, spring, and academic year study abroad. Under this policy, students who study abroad with a partner program will pay to Davidson the College's study abroad and tuition fees, and the College will pay the partner program's tuition cost to that program (up to Davidson's tuition fee). Students will pay all other program costs, including a non-refundable deposit, directly to the partner program. This policy aligns Davidson's practices with many other U.S. colleges and universities.