Returning To Davidson
---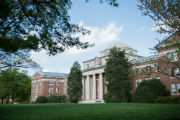 We are glad that you are back on campus, and look forward to hearing from you. Remember that we rely on your feedback to help us inform future study abroad participants! We encourage you to complete on-line evaluations and to set up a meeting with education abroad staff if you would like to discuss your experience in further detail.
Please take a look at the four part re-entry series in your online study abroad account and watch for announcements about re-entry events such as receptions and workshops, returnee resource tables, and group meetings. We encourage you to attend these and other opportunities where you can catch up with classmates, professors, staff and others to exchange information about study abroad experiences.
Bear in mind that it is normal to experience some form of reverse culture shock. If you find the re-adjustment process to be difficult, we strongly encourage you to seek assistance. The
Counseling Center
at Davidson College is a valuable resource. Students are provided with free counseling sessions. Appointments are confidential and can be made by calling 704-894-2451.
Be patient with yourself and get involved with activities that allow you to build on your study abroad experience. This may facilitate the re-entry process. We hope the suggestions below can also help.