SUSTAINABLE TRAVEL
---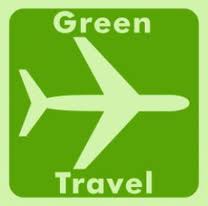 As you prepare for your journey abroad, you are undoubtedly excited about all of the amazing opportunities you will have to experience, such as exploring new places, meeting new people, and learning about the world.
As more students take advantage of the chance to study overseas, it is increasingly important for students to incorporate responsible and sustainable practices into their travel. While many communities benefit from the revenue generated by tourism, this increased traffic can also put a strain on the local environment, economy, and culture. Astrid Jirka, co-director of the Green Passport Program and an outreach coordinator at Ithaca College's Office of International Programs, explores this dilemma in her
article
.
Additionally, when you travel abroad, you will likely experience and hear about wide-ranging and sometimes devastating impacts of climate change on the communities you visit. Climate change is accelerated by human activities that produce greenhouse gas emissions (GHGs). At Davidson, education abroad flights are the 3rd largest producer of GHGs, behind only the electricity purchased to operate campus and the fuel burned to heat campus buildings.
The College values the deep learning that education abroad offers but also acknowledges that accelerating climate change is problematic. We are considering these trade-offs in developing an updated Climate Action Plan. You can do your part by
seeking low-carbon ways
of engaging with your host community while abroad.
If you would like your study abroad program to focus on environmental studies and or sustainability, please make an
appointment
with an education abroad adviser. There are several programs around the globe which focus on these themes.
Davidson Student Testimonial:
Bhutan
Costa Rica
Peru and Denmark
Thailand