STUDENTS OF COLOR
---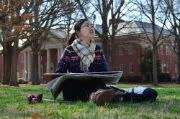 Historically, students of color have been underrepresented in overseas academic study. Universities and programs that administer study abroad, however, have made significant progress to encourage and attract a diverse student body and provide equal access to this opportunity. As a result, participation by students of color in summer, semester, and year-long study abroad programs has increased. According to the Institute for International Education (IIE) Open Doors annual report published in 2014, 289,408 U.S. students studied abroad for academic credit from 2012-2013. Twenty four percent were students of color.
HOW WILL I BE TREATED?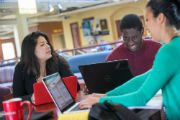 Questions from students of color about overseas study will most likely be the same as those from anyone else interested in this opportunity. For example, what program will best complement my academic curriculum? Will all of my courses abroad transfer back? What are my resources overseas?
If issues about race, ethnicity, and encountering discrimination abroad are a concern of yours, please keep in mind they will vary depending on your host nation and your own cultural identity development. Your nationality may even take precedence while you are overseas and you may no longer be perceived as a minority. Even within a specific country, attitudes toward Americans from individuals in an urban setting may be quite different from those in rural areas. For more information about how different racial groups have experienced their study abroad programs, please take a look at the following:
Native American students
African American students
Hispanic / Latin American students
Asian / Pacific Islander students
Next Steps:
To learn more about what the study abroad process entails, click on
Application Process
and carefully follow each step. If you have additional questions, please make an
appointment
with an education abroad adviser.
Davidson Student Testimonial:
Black Female in Zambia
Additional Information:
Black and Studying Abroad: Tips for Maintaining Your Identity
Changing the Face of Study Abroad
Diversity Abroad Pre-departure Video: Identity and Study Abroad
Minority Students Abroad: an Inspiring Experience
Meaningful Travel Tips & Tales: African American Perspectives
Yellow, Red, and Black. Being Black in Spain
Reflections of Asian American Students
Video Testimonials