FEMALES ABROAD
---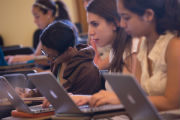 The attitudes and expectations of women vary depending on the country. Being an American female overseas may pose additional challenges. Hollywood films viewed throughout the world have done a lot to disprove, but also equally reinforce negative stereotypes about American women. In order to prepare yourself, research what the culturally acceptable behaviors are for females in your host nation. For additional insight and guidance, please look at
Women Abroad
or speak with a study abroad adviser.
Nancy Newport, a health consultant to the U.S. Peace Corps also provides great advice to females about how to effectively manage and avoid sexual hazing overseas in her
article
.
Next Steps:
To learn more about what the study abroad process entails, click on
Application Process
and carefully follow each step. If you have additional questions or concerns, please make an
appointment
with a study abroad adviser.
Davidson Student Testimonial:
Ecuador
Spain
Additional Information:
Culturally Correct Clothing Advice
For Women Travelers
Transitions Abroad: Women Travel