PRE-MED STUDENTS
---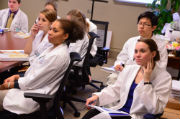 Study abroad is for you! It is a popular misconception to think it is not. Studying abroad not only will help you place your academic curriculum in a global context, it also will help you become a more culturally competent medical professional. It is no wonder so many pre-med students choose to participate.
Important things to keep in mind:
You have numerous options during the summer, semester, or academic year. Students, however, often find that second semester of their sophomore year or summer work particularly well. There are courses you can take in numerous countries to supplement your studies. For example:
Public Health in Urban Environments – Argentina
Tropical Biology – Costa Rica
Medical Practice & Policy – Denmark
Community Health and Social Policy – South Africa
It is important to be aware of where you are in your pre-med curriculum, when and where you plan to take your MCAT, and whether or not your study abroad dates conflict with medical school application deadlines and interviews. The key is to PLAN AHEAD and communicate with your
pre-med adviser
and education abroad adviser.
Ethical Considerations:
While abroad, you may have the opportunity to shadow medical professionals or to volunteer at clinics and hospitals. Besides enhancing your overall experience, this is a great opportunity to expand your understanding of heath care practices outside of the U.S. context.
When you shadow medical professionals or volunteer at clinics and hospitals in the United States, there are certain rules that apply. These rules are in place to ensure your safety and those around you, however they may not be the same in your host country. Below are some points we strongly encourage you to consider while participating in healthcare programs abroad:
Do I feel comfortable doing this?
Am I adequately trained for this and do I have access to adequate safety equipment?
Is there proper supervision?
If things don't go accordingly, how will this impact the lives of individuals I'm working with and me?
If anything is outside of your comfort zone, it's okay to respectfully decline an opportunity or to state, "I don't know." Safety, after all, should be your first priority.
Next Steps:
To learn more about what the study abroad process entails, click on
Application Process
and carefully follow each step. If you have additional questions, please make an
appointment
with an Education Abroad Adviser.
Davidson Student Testimonial:
South Africa & Zambia
Zambia & Ecuador
Davidson College Resources:
Pre-Medicine
Pre-Medicine Plan of Study
Medical School Admission
Additional Information:
Cultural and Linguistic Competence in Health