STUDENT ATHLETES
---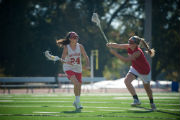 The Office of Education Abroad understands student athletes have additional commitments to coaches and teammates during the athletic season and, depending on your sport, the off-season. If the spring/fall semesters are not feasible for overseas academic study, the summer term may be another option for you.
Davidson Student Athletes Study Abroad
Important things to keep in mind:
Communication
– Please discuss in advance your interest in study abroad with your coaches, and if applicable, your teammates. It may also be helpful to speak with other athletes that have studied abroad to consider the pros and cons of your decision.
Timing
– Study abroad programs are available in the spring/fall/academic year, and summer. Think about when your athletic season takes place; do you have obligations in the pre-season and or additional tournaments in the post-season? Are there team commitments and training scheduled in the off-season?
NCAA Compliance & Eligibility
– As student athletes, there are certain rules you must adhere to regarding monetary compensation, accepting "gifts," coaching, competing in events not sanctioned by the NCAA, etc. These regulations can get complicated while you are overseas. Please speak with the Davidson College Compliance Director,
Katy McNay
, for clarification.
Nutrition
– Depending on your host country and region, your eating pattern may not be the same as in the U.S. We recommend consulting with Davidson College Nutritionists,
Elizabeth Allred
or
Julie Whittington
, to create a nutrition plan prior to your departure if you expect your food selections to change while abroad. Additionally, upon your return, we recommend following up with your nutritionist to discuss responsible and healthy steps that will ensure optimal health and nutrition for your sport.
Training overseas
– The onus is on you to stay in good physical condition for the duration of your study abroad experience. Speak with your program provider about what training and athletic facilities you have access to in the host community. You may also want to create a workout routine with your strength and conditioning coach before going overseas. Keep your coaches and your teammates updated about your routine and progress. This can have a positive impact on team cohesion, despite the geographic separation.
Re-entry
– The study abroad experience is transformative. When you return, you may experience reverse culture shock. The severity and when it occurs varies with each individual. If you require additional assistance during your re-adjustment process, Davidson College Sports Psychologist,
John Brunelle
is available for you. Another great resource is information listed under
Welcome Home
to help you build on your study abroad experience.
Next Steps:
To learn more about what the study abroad process entails, click on
Application Process
and carefully follow each step. If you have additional questions, please make an
appointment
with an education abroad adviser.
Davidson student testimonial:
Fieldhockey player
Football player
Additional Information:
Global Understanding
Cross-Cultural Awareness
IFSA Unpacked - "How to Study Abroad as a Student Athlete"