INTERNATIONAL STUDENTS
---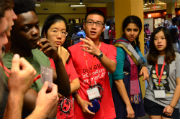 As an international student, you already are studying abroad; however, if you have a desire to explore other countries, we encourage you to do so. We understand your situation may be different because of your nationality and visa status. The relationship between your home country and your country of interest for study abroad may be unlike the relationship maintained by the U.S. and your destination. This may impact where and how you obtain proper documents prior to your overseas study, so please research this information in advance.
Also, please speak with International Student Adviser,
Susan Hatchett
, about whether or not your student visa for the U.S. will undergo any changes if you participate in study abroad.
**Financial Aid**
International students are allowed to use Davidson financial aid to participate in a Davidson approved study abroad program during the academic year. However, international students are not able to use their financial aid to participate in programs in their home countries.
Next Steps:
To learn more about what the study abroad process entails, click on
Application Process
and carefully follow each step. If you have additional questions, please make an
appointment
with an education abroad adviser.
Davidson Student Testimonial:
Studying in Argentina
Studying in England
Studying in Scotland
Studying in Switzerland & France