Study Abroad

p: 704-894-2250
f: 704-894-2120
e: abroad@davidson

Mailing Address:
Box 7155
Davidson, NC 28035

Shipping Deliveries:
209 Ridge Rd.
Davidson, NC 28035

Share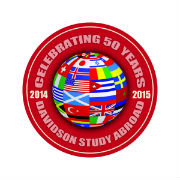 Davidson students embrace education abroad! By the time a class graduates, about 65 percent of the class has studied abroad for a year, a semester, or a summer.
Students have the opportunity to choose from several Davidson faculty led programs and over 150 that are approved and administered by outside parties. Please click on
Application process
if you are considering study abroad in the near future.

Information Session:

Davidson – Peru
Wednesday, October 22
CH: 1062 / 4:30 p.m.
DEADLINE notice:
The required application for leave form is due Saturday, November 1st.
Please look at
Leave Process
for more information.
Passport:
Students can apply for passports at the post office on campus.
This service is available on March 13, 2015.