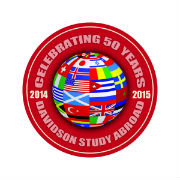 Study abroad is an invaluable opportunity that supplements the Davidson undergraduate experience. Students have the opportunity to choose from several Davidson sponsored programs and from over 100 academic programs that are operated by partner providers around the world. Last year, well over half of our graduating class studied abroad for a year, semester or summer.
Please click on
Application Process
if you are considering study abroad in the near future.
***Please Note***
The study abroad application for Spring 2018 is now open.
The application deadline for
Spring 2018
is
October 1st, 2017
. Please see
Application Process
for additional details.
Petitions for non-approved programs for
Spring 2018
are due
September 1st, 2017.
Students planning to
submit a petition
are required to meet with a study abroad adviser.
All prospective study abroad students are encouraged to
Request an Appointment
with a study abroad adviser. If you only have a brief (5-10 minute) study abroad question,
walk-in advising
is available Monday through Thursday between 4:00-4:45 pm in the Dean Rusk International Office in Duke Residence Hall.
Dean Rusk International Studies Program - Meet Our World! Event - Thursday, August 24th
For prospective and returning study abroad students alike, come out to the Duke Res Hall courtyard on Thursday from 5:00-7:00 pm for FREE snow cones, international food truck vendors (food for purchase), and information about study abroad and global opportunities on campus!