Study Abroad

p: 704-894-2250
f: 704-894-2120
e: abroad@davidson

Mailing Address:
Box 7155
Davidson, NC 28035

Shipping Deliveries:
209 Ridge Rd.
Davidson, NC 28035

Share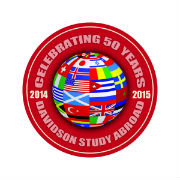 Davidson students embrace education abroad! By the time a class graduates, about 65 percent of the class has studied abroad for a year, a semester, or a summer.
Students have the opportunity to choose from several Davidson faculty led programs and over 150 that are approved and administered by outside parties. Please click on
Application process
if you are considering study abroad in the near future.
Please

DO NOT

click on the "Apply to Program" buttons.
The study abroad office is doing maintenance work with the on-line system.

This requires us to activate programs so you may see "Apply to Program" buttons on program brochures. This is part of the testing process; .

Once system upgrades are complete in late-July, we will post a notice on this website.
Thank you for your understanding and patience!
Celebrating 50 years of Study Abroad at Davidson
,,,,,,

read more
Davidson students receive U.S. State Department sponsored scholarship,,,,,,

read more
Are you a first year student? If so,,,,,,
read more