Study Abroad

p: 704-894-2250
f: 704-894-2120
e: abroad@davidson

Mailing Address:
Box 7155
Davidson, NC 28035

Shipping Deliveries:
209 Ridge Rd.
Davidson, NC 28035

Share
WELCOME HOME
---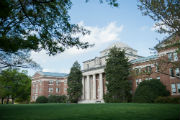 We are glad to have you back. Please pay attention to announcements about the re-entry orientation, dinner parties, and other opportunities for you to catch up with classmates, professors, and informing others about your study abroad experience. Whether or not you are happy to be back, everyone will experience some form of reverse culture shock. If you find the re-adjustment process to be difficult, we strongly encourage you to seek assistance. The
Counseling Center
at Davidson College is also a valuable resource for you. Students are provided with free counseling sessions. Appointments are confidential and can be made by calling 704-894-2451.
Be patient with yourself and get involved with activities that allow you to build on your study abroad. This may facilitate the re-entry process. We hope the suggestions below can also help.
Stay in touch with friends you made overseas.
Attend events sponsored by the Dean Rusk Office.
Write about your overseas experience for the Toilet Paper or the Davidsonian.
Process your thoughts with a counselor.
Speak with alumni working abroad or on international issues.
Talk with individuals in

Civic Engagement

about ways to get involved on and off campus.