This page is the brochure for your selected program. You can view the provided information for this program on this page and click on the available buttons for additional options.
Cape Coast, Ghana
(Outgoing )
Featured:
Program Terms:
Summer

Fees and other costs (click on the term -->)
Summer


*Please note that the Davidson in Ghana program will not be offered again until the Summer 2018 term.*
Program Overview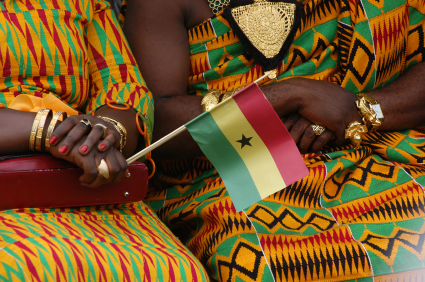 During a period of six-weeks, participants in the Davidson Summer Program at the University of Cape Coast will be immersed in modern and traditional Ghanaian life. The program includes two course credits, a service/research project, and excursions into other regions of Ghana. Ghanaian professors and artists will teach all classes.
As one of Africa's most beautiful and progressive countries, Ghana is a democracy with a multiparty political system. Slightly smaller than the state of Oregon, the average temperature in this West African country ranges between 70 and 90 degrees. While Ghana is a multi-ethnic nation, most of its 18 million people belong to six ethnic groups. The country is divided into ten regions, each of which is governed by a minister and has its own legislative assembly.
The University of Cape Coast is located on the outskirts of Cape Coast, the capital city of the Central Region. This Region is the home of the Fanti people, the site of two important slave castles, and the largest virgin rain forest in the country. With a population several hundred thousand strong, the city of Cape Coast is the major center for commercial, educational, and cultural activities.
Academics
Perched on a hill overlooking the Atlantic Ocean, the University of Cape Coast has an enrollment of 7,000 students. American students may be struck by the contrast in architectural styles on the campus. A modern university encircles four traditional villages where adobe houses are fairly common. Since housing is provided for students, faculty, and staff, the University of Cape Coast's campus is quite expansive.
Courses:
ANT 232 Contemporary Ghanaian Society and Culture
This interdisciplinary course introduces students to the major economic, socio-political and cultural factors that have shaped Ghana's development in the 20th and 21st centuries. In addition, the rich cultural heritage of Ghana's major ethnic groups is studied. Students receive one Davidson course credit.
ANT 233 Performing Arts in West Africa
Course in traditional Ghanaian music and dance. Students learn singing, dancing, and drumming at the School of African Rhythm and Dance with Ghanaian instructors. Students receive one Davidson course credit.
Service/research project
Students will be involved in service/research projects based on their personal interests. Examples of projects include volunteering and teaching at schools, volunteering at Planned Parenthood, interning at a women's cooperative, drumming apprenticeship, research on traditional Ghanaian medicine, making films and attending a film festival, etc. The director currently is working to expand pre-health opportunities for students.
Program Highlights
On weekends, students will have the opportunity to visit major cultural, historical and conservation centers in various parts of Ghana.
Housing and Meals
Students will live in a guesthouse near the university, two students per room. Breakfast and dinner are provided. Free Wi-Fi is available at the guesthouse.
Admission Requirements
Open to all Davidson students who are in good standing in all areas. For academics, 'good standing' is defined in this case as having a 2.5 cumulative GPA or higher (exceptions may be made in certain circumstances). Programs are open to non-Davidson applicants, space-permitting. Students who will graduate before the program start date are not eligible to apply.
Contact Information
Professor Helen Cho
hecho@davidson.edu
Phone: 704-894-2299
Visa Warning:
Passports must be surrendered as part of the visa application process. Since it may take up to 90 days to receive a visa and have your passport returned to you, participating in consecutive study abroad programs in different countries, particularly between summer and fall, may be problematic or impossible.
Davidson College and consulate staffers cannot guarantee that a visa will be granted by a foreign government in any circumstance or in any time frame. International students should schedule a consultation with International Student Adviser,
Bea Cornett
, to discuss their visa status.
Davidson College reserves the right to cancel or modify part or all of a study abroad program should changing circumstances make it necessary to do so. In cases where the college has security concerns, the program director and the Dean Rusk Program Director will gather information and make a recommendation to the Dean of Faculty. The dean will take a decision to the president, who retains ultimate authority to decide whether or not a particular Davidson-sponsored trip should proceed.

Davidson admits qualified students without discrimination because of race, color, religion, national origin, age, handicap, gender, or sexual preference.
There are currently no active application cycles for this program.